Sweet Heart Craft
Here is a cute heart craft that will hold your package of conversation hearts.
You can make a special Valentine's Day craft for your mom, dad, grandparents, or teacher. You could even make one for your brother. 
Did you know that another name for conversation hearts is sweethearts?
The candies were often used at weddings because of the love sayings that are printed on the candy.
To make this craft you will need;
Red and pink construction paper
Wiggly eyes
Red marker
Two twelve inch pipe cleaners
two inch heart shaped cookie cutter
A glue stick

The cookie cutter is not part of the craft but is helpful in making the hands.

To Make Your Heart Craft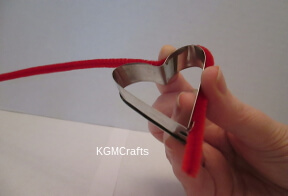 Place the end of your pipe cleaner just beyond the point of the cookie cutter. You will want about an inch tail. Fold your pipe cleaner around the cookie cutter.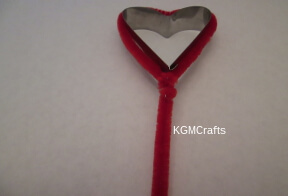 After you have made you heart shape, twist the end to the pipe cleaner. You should have a heart on a stem.
Don't they just look like flowers? Well you could give someone a bouquet of hearts for Valentine's Day. Or am I just thinking about Spring?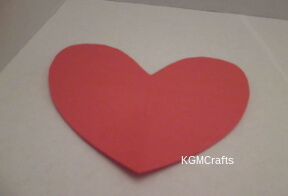 Cut a red heart out of a 5 by 5 1/2 inch piece of paper. Use all of the paper, just trim around the edges. It should be a little larger than your box.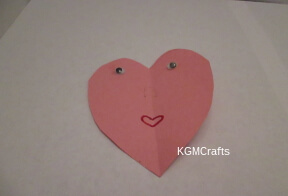 Cut a pink heart out of a 3 by 3 1/2 inch piece of paper. This will be the head of your love monster.
Glue on The wiggly eyes. Then draw a heart for the mouth with a pencil. Draw over the pencil marks with a red marker.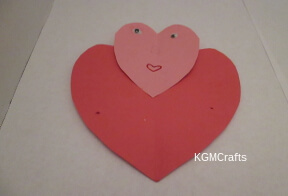 Glue the pointed end to the center of the red heart. (Awe, my heart is blushing.)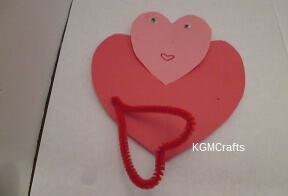 Take your pipe cleaners and poke a hole in the side of the red heart. Thread the end of the pipe cleaner through the hole until it reaches the twisted end. Do the same for the other side. Make sure the arms are somewhat equal on each side.

On the back of the red paper twist the end of the pipe cleaner together.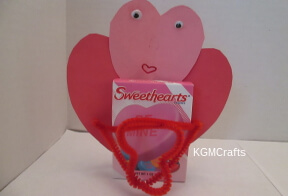 Set your box of sweethearts so that it is sitting upright on the table. Place the love monster behind the box. Fold one pipe cleaner heart hand through the other.

Your heart craft gift is ready to give to your favorite person. Happy Valentine's Day.
Home
›
Holiday Crafts
›
Valentine's Day
› Heart Love Monster