Easy Pipe Cleaner Snowflake
A pipe cleaner snowflake would make a cute ornament for a Christmas tree. Or you could put it in your window in January. (Who says snow has to end in December?).

Does your house look sad when you take down the Christmas tree and put the rest of the decorations away? You can brighten your January by leaving out the snowmen and putting snowflakes in the window.

By the way everyone will enjoy making these. It is not just a kid's craft, since adults will have fun making it too.
When I first made this craft I used white pipe cleaners. Recently I found sparkly white pipe cleaners that would be idea for this project. The sparkly ones make a nice looking snowflake.

How to Make a Pipe Cleaner Snowflake

You will need three twelve-inch white pipe cleaners. You will also need a six-inch piece. Believe me this is all you will need. Your kids could even do this craft in the car on the way to grandma's house.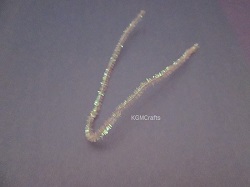 Start to fold the pipe cleaner so that the cut ends meet.

Place the folded end around the tip of your finger. Twist the ends so that there is a circle on the folded end.
Twist the cut ends so that they connect. You will have a small circle at one end and an oval.

Place the end that you just twisted together over your finger. Twist so that there is a circle. Your pipe cleaner should have a circle on each end and oval between the two.

Make two more snowflake arms like you did above. You will want a total of three arms.

Place the three folded pipe cleaners on top of each other. Imagine a clock. The first snowflake arm is at twelve and six. The next arm is at two and eight. The last arm is at four and ten.

Now you will need to secure the arms together. Take the six inch piece of pipe cleaner and weave in and out over the three arms. You are done.

Depending how you wove the center together you will have either an open design or it will be filled in.
Add a string to hang from the windowsill or on the Christmas tree.

I also used sparkly gold pipe cleaners to make a star ornament at Christmas time. Someday I would like to decorate the tree with just snowflakes and stars that I have made.


Home
›
Winter Crafts
› Pipe Cleaner Snowflake