Who Is Behind K.G.M. Crafts?

Why We Started
I started this site with my daughter Grace when she was a teenybopper. We chose crafts because we both enjoyed doing them and wanted to share are our love of crafting with you. 

Update 2021
Well, she grew up as children tend to do. She still helps me part-time though. She reads and edits the pages, adding her writing flare. She also does some of the more detailed artwork on the PDFs. She also keeps busy writing stories on her own blog.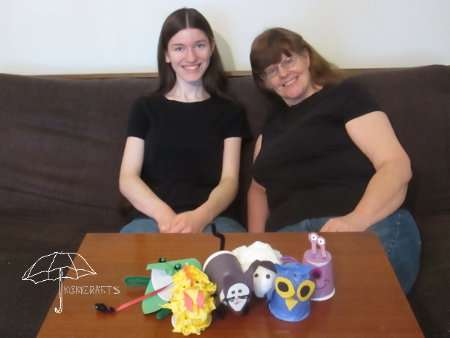 Crafts We Like
One of the things I have found out after starting the website is how much you like Bible crafts. Well, I do too! So you will probably find more crafts that will be appropriate for Sunday school.
I was a Sunday school teacher for several years. I started in the nursery working with kids two and under. We had a lot of fun with eatable finger paint, umm I mean pudding. Then I grew up and worked with preschoolers, kindergartners, and 1st-grade children. We had a lot of fun learning about God and doing Bible crafts.
Education and other Experience
Well, you don't need a degree to be creative. But, sometimes education is nice. So I will toot my horn a little bit. I (Karen) have a BA in psychology. I didn't do much with it except I got married and then home-schooled my children. Where we did a lot of hands-on-learning and crafting.
After that I decided that I wanted to work in the school district. So, I took two years of para-education classes. I did work in the field for five years mainly with autistic children. 
A Site By Any Other Name Wouldn't be Us
So why did we name it K.G.M. Crafts? We wanted something short and to the point. We looked and looked. Everything that we could think of was taken or too long. So we used the initials of our names Karen and Grace. That explains the first two letters in K.G.M. Crafts. We added the M for our last name. Then we added the word "Crafts" because that is what we do.

Enough about us. It is time for us to go have some fun making messes kids crafts to share with you. Then you can have fun creating with your kids.
Contact us
Need to contact me? Please use this link.
Get Your Crafting Tips Now!
Share