Spring Crafts for Kids

The Secret to Enjoying the Rain
It's pouring! So come in from puddle stomping and make spring crafts for kids. With these fun and easy projects, your child will never say the rain is boring. And you will stay dry.
Click the pictures below to find spring crafts for kids to make.
Oh no! Here comes the creepy crawlers! The icky squishy bugs who want to eat anything green in the garden. Quick! Let's keep the kids inside before they start looking for the nasty things! Let's get them crafting! Well, not all bugs are bad. Some are actually quite good. Some are even pretty to look at.
While crafting, you can teach your child about the life cycle of insects. They can make bees and caterpillars and other things too. These bugs will not annoy you.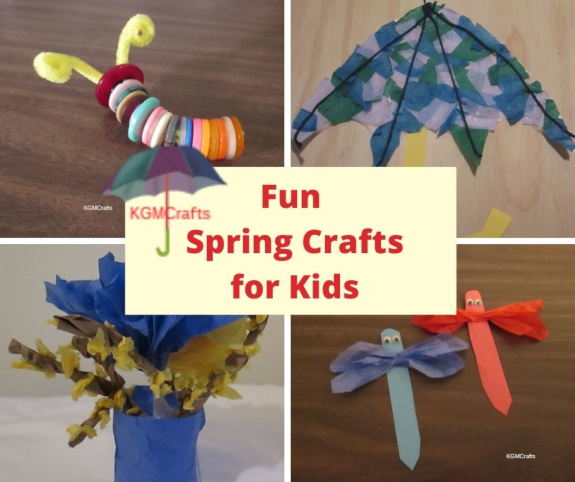 Want to make the crafts another day? Pin for later.
So your kids don't like bugs. Well, there are other spring crafts for kids that you can do. Make some flowers to brighten your home, or make a rainbow to remember the promise of sunshine.
Spring Crafts for Kids

Roses are red, daisies are white, chrysanthemums are sometimes yellow. Making flowers are so much fun. So let's make one for grandma, mom, and all our loved ones. There are lots of different flowers for you to make here.
Flowers come in different shapes and textures too. So, besides paper you can use tissue paper, cupcake liners, or craft foam to make cute flowers.
Besides flowers, you will find bees during the spring. So let's make some bee crafts.
You will also find some caterpillars out in your garden. They like to eat all day long. These caterpillar crafts will not destroy your flowers. They are just cute.
Caterpillars make beautiful butterflies. Your kids will have fun making butterflies out of different materials. They can use paper, craft foam, or cupcake liners to make these crafts.
There are other bugs that come out in the spring. On the bug page, your kids can make ladybugs, dragonflies, and other bugs.
It's raining, it's pouring, let's go and make something wet and pretty. Then let's watch while it dries and as it comes alive! Use water to make these coffee filter crafts.

The rain has stopped, look a rainbow! Let's remember God's promise by capturing all the beautiful colors. Rainbow crafts are fun to make too!

Spring seems to be a time of weather change. Snow, wind, rain, or sun. But no matter what the weather, there are fun crafts for kids to do.
It is raining too hard to play outside. Let's make some crafts inside today. Kids can make pictures of a frog, duck, or rainy day. There are even some fun dancing puppets to make.
Recycling


You can make a lot of crafts with supplies such as paper, glue, pipe cleaners and such. But you can make your creations more interesting when you use some recyclables.

Earth Day is just around the corner. You can teach your child about reduce, reuse, and recycle by crafting.

Some items to keep;
Water bottles
Small cardboard boxes
Cardboard tubes
Cardboard in different weights
Egg cartons
Yarn scraps
Fabric scraps
Small plastic containers
Think about of the things you can make with recycled materials. We have used some in our spring crafts for kids. Use cardboard tubes to make butterflies. A small plastic container was used to make a flower. Make an ant out of an egg carton. 
You won't want to keep a lot of any one item. Just an item or two. You don't want to build another room onto your house just for storing craft supplies, do you?
Making spring crafts for kids is so much fun! You can almost go dancing in the rain now! Wait! You might want to leave the crafts inside first.

Spring Holidays;
Share