The Good Shepherd Craft Easy and Fun
The good shepherd craft is great for Sunday school or children's church. In John chapter ten, we read that Jesus is the good shepherd who takes care of his sheep. 
There are two crafts. You can either cut and paste the sheep on the staff or make sheep from cotton balls.
Both crafts are quick so, you can spend more time teaching the story.
With some adult help, both crafts should be easy enough for preschoolers to do.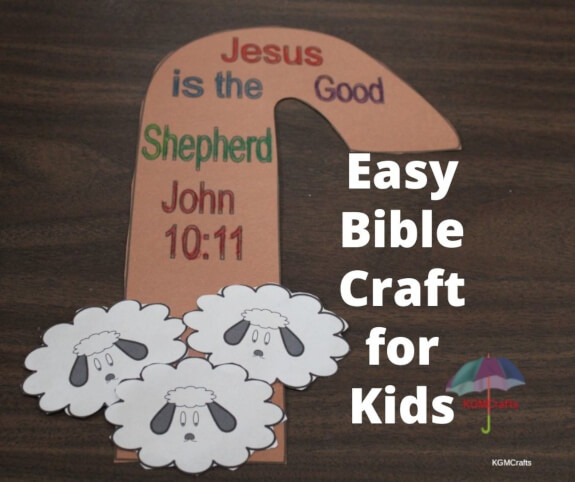 Want to make the crafts another day? Pin for later.
The Good Shepherd Craft #1
Here is an easy cut-and-paste craft. Remember to print enough pages before Sunday school.
You will need;
Download and print the FREE shepherd staff with the three sheep. Have the students color the staff brown or print on brown paper. 
Here is a tip for printing the staff on brown paper:
Load your printer with enough colored paper sheets for your class. Then print just the staff page.
Now make sure that your printer is loaded with white paper and then print the sheep page.
Color the words with crayons or markers before cutting out the staff.

Cut the staff and sheep out. Kids can either cut around the circle or the outline of the sheep.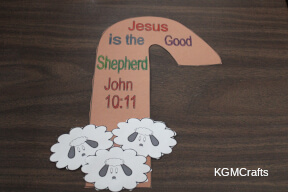 Glue the sheep to the bottom of the staff.

The Good Shepherd Craft #2
Here is a good shepherd craft that will take a little more time, but is still easy to make. 

You will need;
Brown construction paper
Scraps of black paper (optional)
Scissors
Cotton balls
Pen or fine-tipped marker
Wiggly eyes
White Glue
Baby wipes (optional)
Draw a candy cane shape approximately 9 by 3 inches.
If you don't want to draw the staff or write the words, then download and print the PDF. You will only need to print the staff page.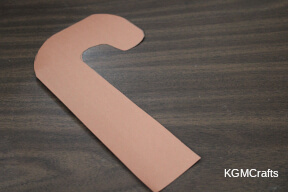 Cut the shape out.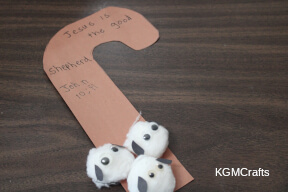 Glue three cotton balls near the bottom of the staff.
Add small wiggly eyes to the center of the cotton balls.
An optional step is to cut small tear shapes from black paper to make the ears for the sheep. The tear shapes need to be really tiny, less than an inch long. Even though this is an optional step, the ears make the cotton balls look more like sheep.
Glue the ears to the cotton balls near the eyes.
At this point, give your students baby wipes or let them go to the sink to wash off their sticky fingers.
Above the sheep, on the staff with a pen or marker, write "Jesus is the good shepherd. John 10:11".
Make the good shepherd craft after reading the story found in John 10. The craft could also help children memorize the scripture.

More New Testament Crafts
Share