St. Patrick's Day Kids Crafts More Than a Legend
Like the color green? Make shamrocks and other St. Patrick's Day kids crafts. Read to the end of the page for some fun facts.
The images will take you to the individual St. Patrick's Day Kids Crafts.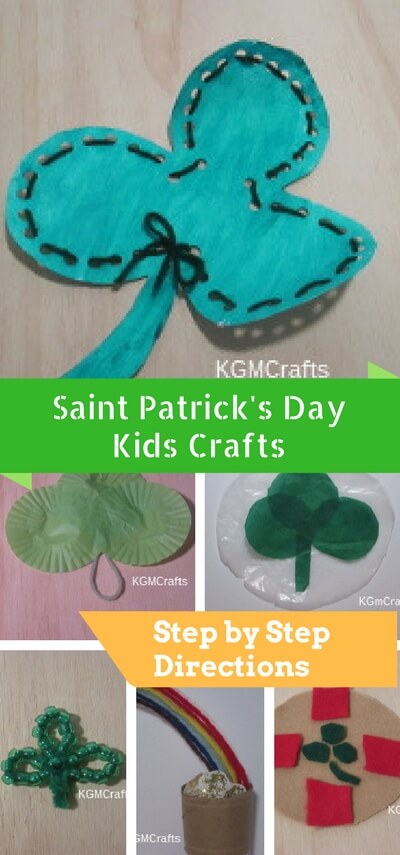 Shamrock Crafts
According to Wikipedia, the shamrock or clover has been used as a symbol of Ireland since the 18 century. Saint Patrick used the clover to teach people about the Trinity. There is another plant that is sometimes called a shamrock. It is the common wood sorrel. The plant is sometimes given as a gift on March 17.

Beaded Shamrock
Make several of these St. Patrick's Day kids crafts into a pins. Wear one so that you will not get pinched.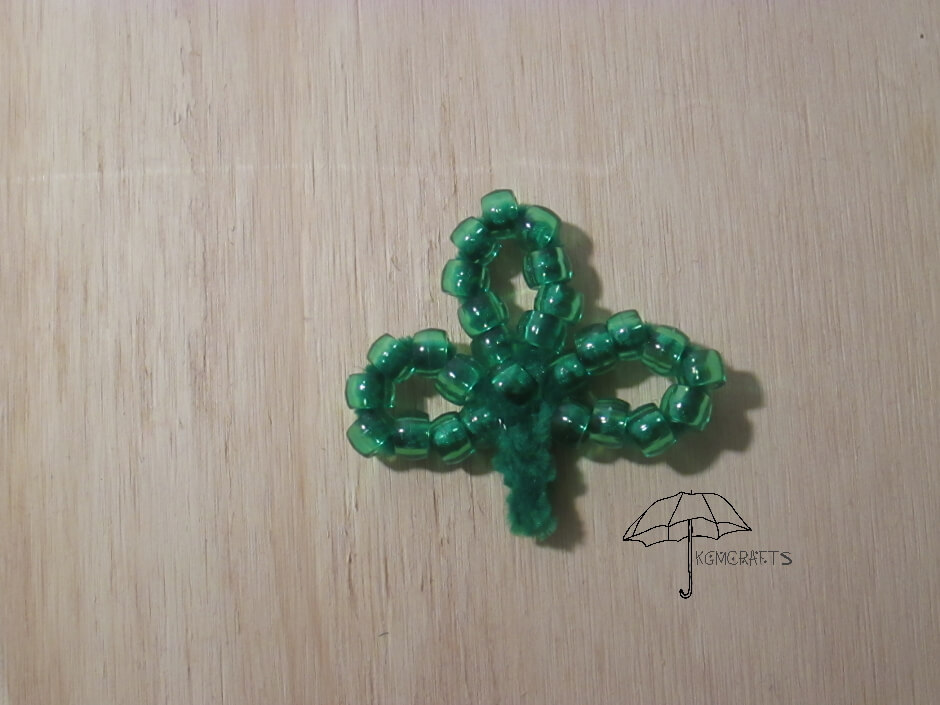 You will need;
12 inch green pipe cleaner
27 transparent green pony beads
Pin back
Hot glue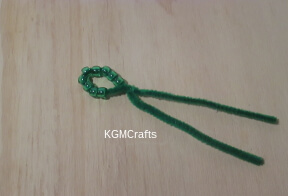 Place nine pony beads on your pipe cleaner. Push the beads to the center of the pipe cleaner. Make a circle with the beads and pipe cleaner, then twist.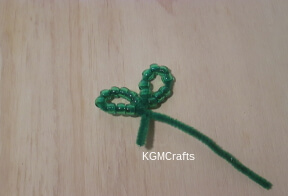 Place nine more beads on one end. Make a circle and twist.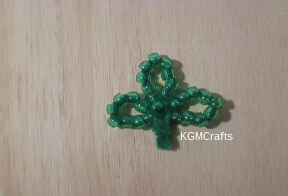 Place the last nine beads on the other end. Make a circle and twist. Twist the two ends together. Then fold the ends up to the beads.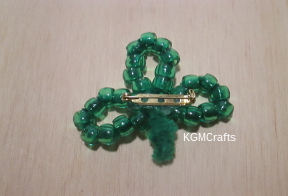 Glue the pin back to the beads with hot glue.

Sun Catcher
Green has been associated with Ireland since at least the 1640's. Here is another shamrock you can make to add some green to your house.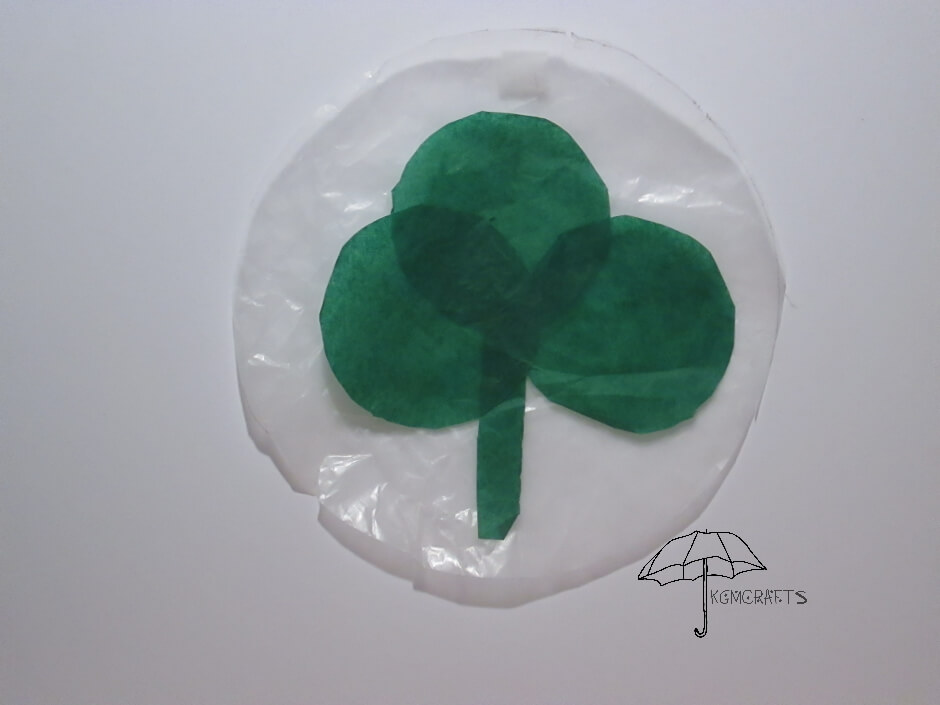 You will need;
Wax paper
Green tissue paper
Glue stick
Optional paper plate and small lid 3 1/2 inches
Place the paper plate on a piece of wax paper. Draw around the plate to make a circle.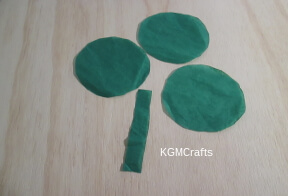 Use the lid to draw three circles out of green tissue paper.
Cut a small green rectangle 4 by 1/2 inches.
Place one of the tissue circles on the wax paper.
Place the rectangle under the circle. This will be the stem.
Put one of the other two circles on the left and the other one on the right. Overlap the circles some.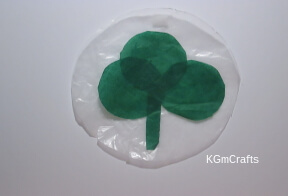 When the circles and stem resemble a shamrock then use your glue stick to glue everything to the wax paper.

Lacing Card
Give your friends this card to wish them a happy St. Patrick's Day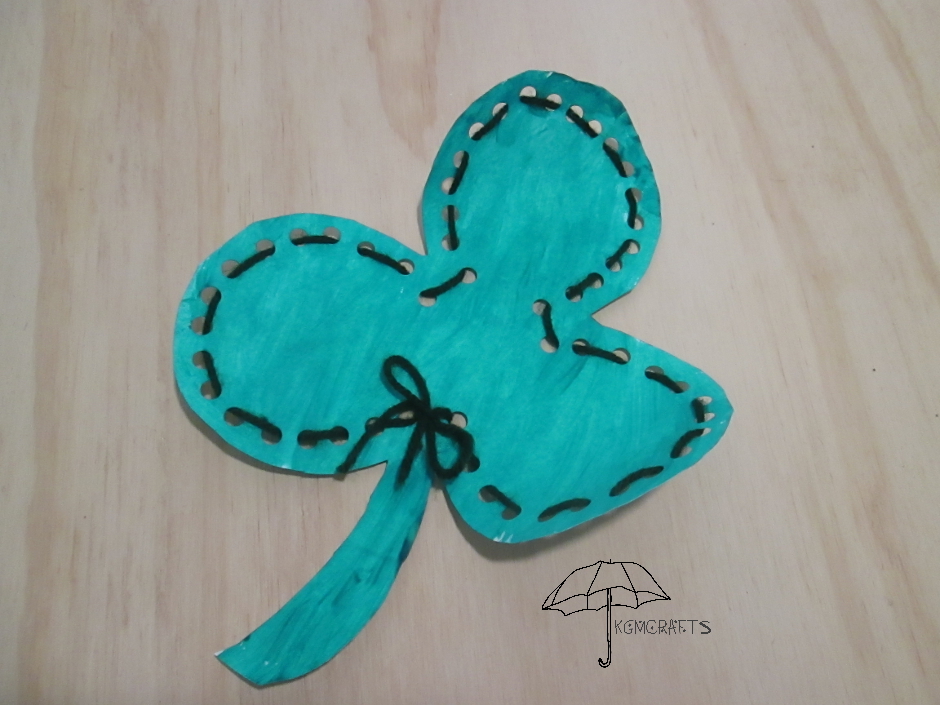 Supplies;
Paper plate
Hole punch
Scissors
Green paint
Green yarn
Optional round container I used the bottom of a cottage cheese container that was 3 1/2 inches.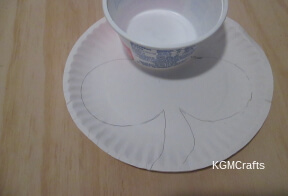 With your round container or lid draw three circles to make a clover shape. Draw a stem at one end.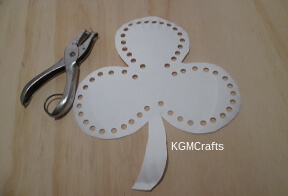 Cut your clover out.
With a hole punch make holes around the outside of the three-leaf clover.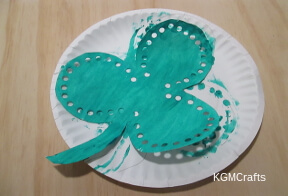 Use green paint to color your leaf. Be careful not to move your shamrock too much and let dry when you are done.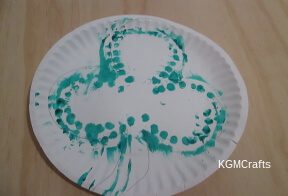 You might have a surprise under your green clover.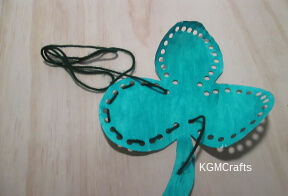 Cut a piece of yarn approximately 44 inches. This should be long enough to go around your clover and tie in a bow at the end.
Sew around the clover with your yarn.
Cupcake Liner 3-leaf clover
Cupcake lines can be used to make a shamrock.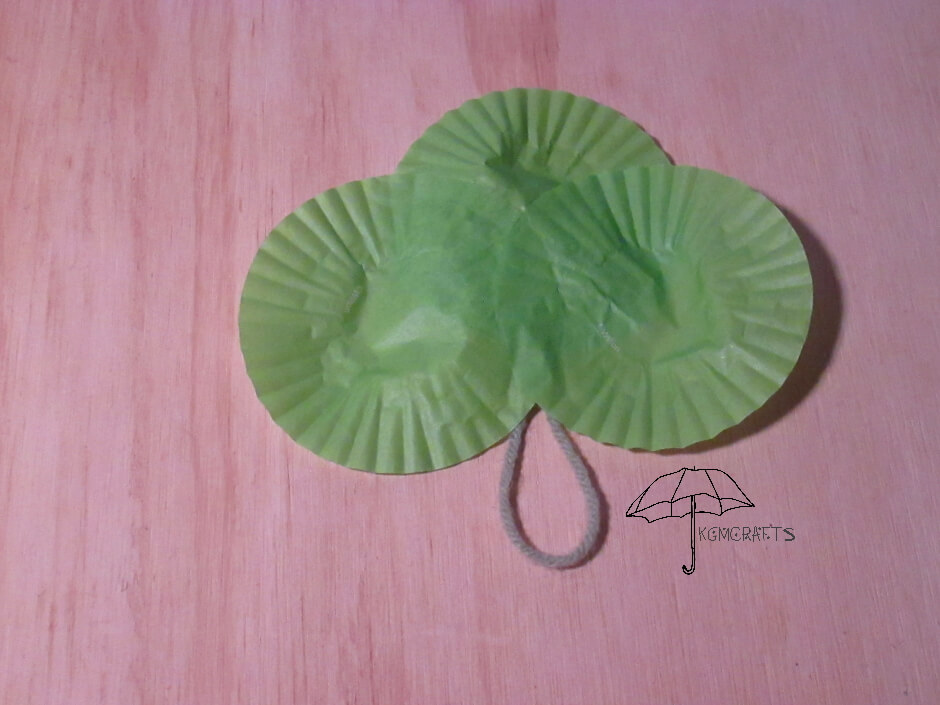 Materials;
3 green cupcake liners
Scrap of green yarn
Glue stick
Tape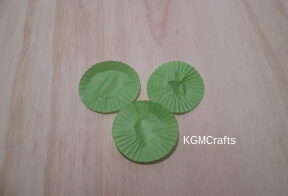 Flatten the three cupcake liners. Glue together so that they look like a three-leaf clover.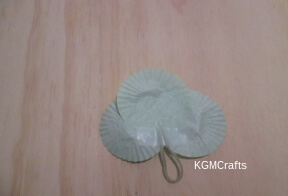 Make a loop with a piece of green yarn tape the back of the cupcake liners.

Different St. Patrick's Day Kids Crafts
Celebrate St. Patrick's Day with these kids crafts.
Pot of Gold
I don't know how the legend of the pot of gold at the end of a rainbow got associated with St. Patrick's Day. But there is a good story about being selfish.
The story is about a poor man and woman. One day the woman found a Leprechaun. The Leprechaun told the woman that she could have one wish.
Instead of asking for one thing the man and woman asked for several things for themselves. They were being selfish according to the Leprechaun.
But he did say that they could have the gold that was hidden at the end of the rainbow. The man and woman went hunting for the gold but never found it.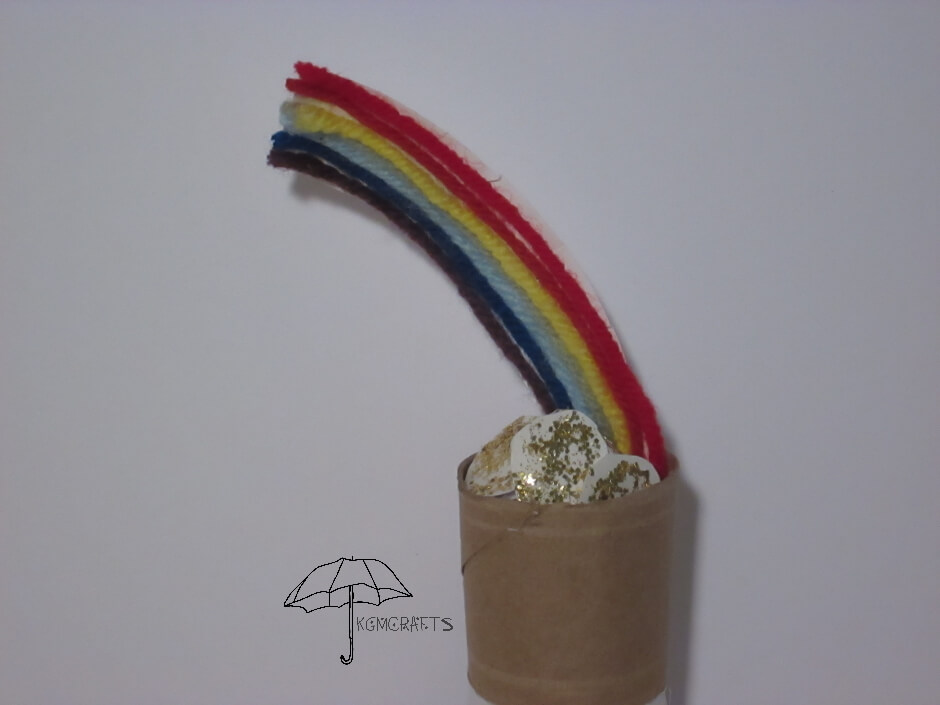 You will need;
Empty paper roll
Scissors
Paper
Small pieces of yarn in purple, dark blue, light blue, green, yellow, orange, red
Scraps of cardstock or paper plate
Gold glitter
Glue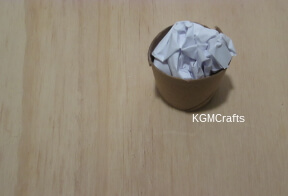 Cut your paper roll so it is 2 inches. This will be your pot.
Make a small ball with a sheet of copy paper. Place inside the paper roll.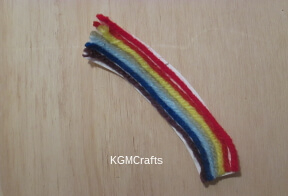 Cut a piece of paper plate 6 1/2 inches.
Cut yarn that will fit on the paper plate.
To make the rainbow, glue on the yarn. Cut off any pieces of yarn that hang over the ends.
Place the rainbow in the pot.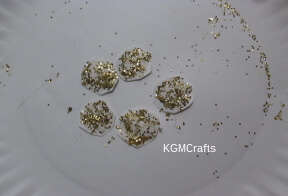 To make the gold coins, cut several circles from scraps of a paper plate or cardstock. Cover the tops with glue and add glitter. Let dry overnight. In the morning glue the coins on the paper in the paper roll.

Old Fashioned St. Patrick's Day Kids Crafts
One thing that was popular during Ireland until the 20 century was wearing a Christian Celtic cross. People made them out of paper, ribbons, with a rosette of green silk in the center. You can see some of the badges that were made at the Museum of Country Life in County Mayo. Wikipedia has a picture. (the link will open a new window)
Paper Plate Cross
What you will need;
Paper plate
Two different colors of tissue paper (I use green and red)
Glue stick
Snowflake Sticker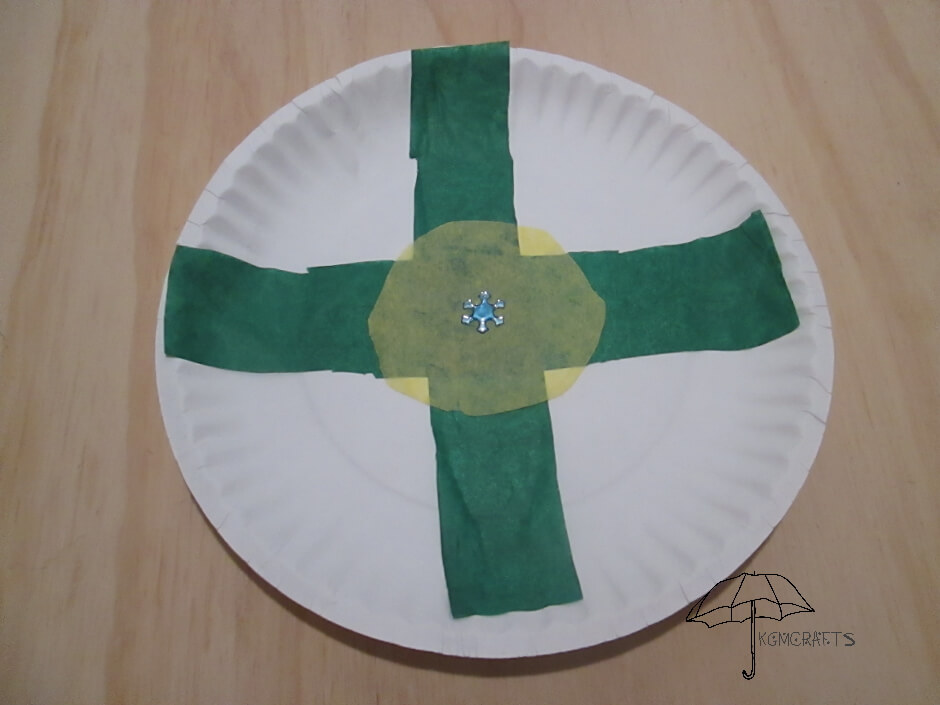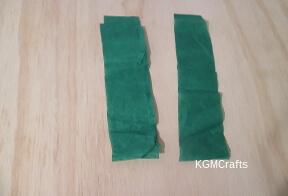 Cut two pieces of tissue paper each being 8 1/2 by 1 1/2 inches. Arrange them in a cross shape on the paper plate and glue.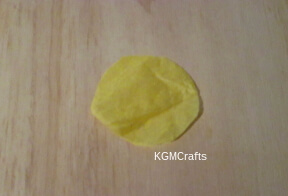 Cut a 3 inch circle with your other color of tissue paper.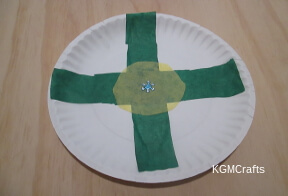 Glue on the center of the paper plate.
Stick you snowflake sticker in the center.
Craft Felt Cross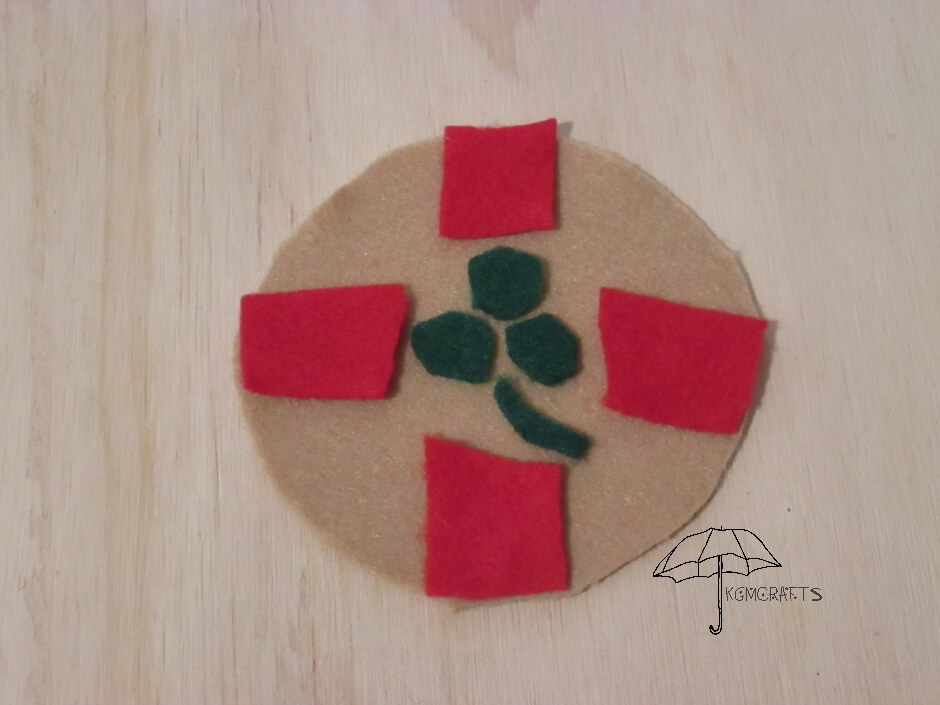 You will need;
Tan, red, and green craft felt
Tacky glue
Pin
Hot glue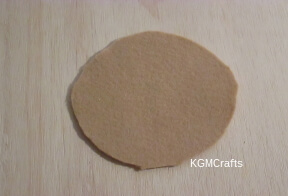 Use a 3 3/4 inch sour cream lid to make a perfect circle out of the tan felt and cut it out.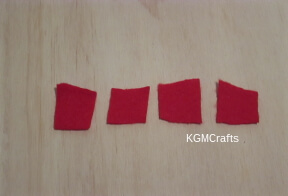 Cut out four red squares each being 1 by 1 inch.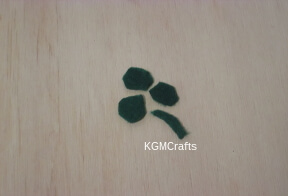 Cut out three small tear shapes out of green felt. Also, cut out a small circle piece of green felt that looks like a stem.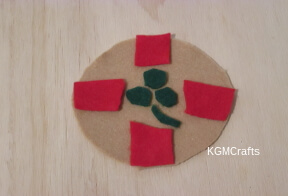 Arrange the red squares to make a cross shape, gluing down with tacky glue.
Then arrange the green tears and stem to make a three leaf clover. Glue with tacky glue.
With the hot glue gun, glue the pin on the back. When it is dry, you can pin it to the sleeve of your shirt.

Fun Facts

Did you know that St. Patrick was not born in Ireland?  He was from Roman Britain. It was not until he was captured by the Irish that he went there. However, at that time he was not a saint he was a servant. It was not until he had escape when he had a dream about telling the Irish about God. So later he returned to do just that.
No one is one hundred percent sure when St. Patrick lived. People believe that he died on March 17 which is the day the holiday falls on. In fact no one knows much about his life. Also, a lot of the holiday traditions have nothing to do with Patrick's life.

More About Saint Patrick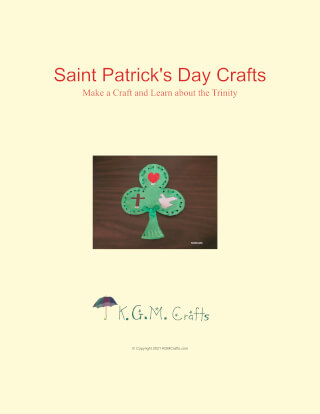 Want to know more about Saint Patrick and why we celebrate Saint Patrick's Day? You can buy the PDF from my Teachers Pay Teachers store. The booklet has more facts about Patrick and two crafts.

There are lot legends for this day. But we hope that you have learned a lot with St. Patrick's Day kids crafts.

For more great crafts sign up for our newsletter.
Share