Wreath Crafts for Kids
for Every Season
Quick here is a project that you can use for any occasion.  Wreath crafts for kids make fun decorations. Just use different colored paper to represent different holidays.
This is project is easy enough for preschoolers to do and is good for anyone learning to use scissors.
Have you noticed that each season uses a different color? Holidays colors in winter are usually green, red, and white. We use pastels for special days in spring such as pale yellow, pink, blue, and green. In summer, bright primary colors are used.  Independence Day or the 4th of July in the United States uses red, blue, and white. The fall holidays use orange, black, and yellow. For birthdays, we can use the person's favorite color.

For this project you will need;

Construction paper,
A paper plate,
Scissors,
Glue,
Markers

First cut the center out of the paper plate. I pinched the plate just below the rim so that I could make a slit. I then continued cutting around the rim.
Place your child's hand on the round piece you just cut from the plate. Have him trace around his hand and cut out. Then use the pattern to draw hand prints on your choice of colored paper.

Wreath Crafts for Kids

Spring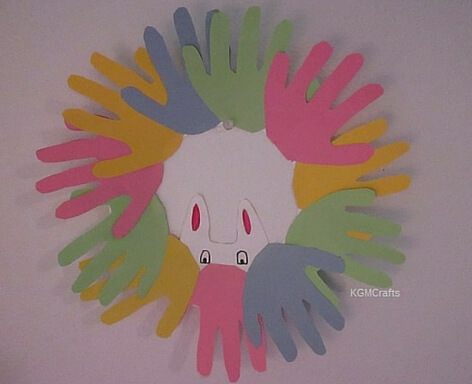 Choose light green, pink, yellow, and light blue paper for your hand print colors. Prepare your plate. Cut out a bunny shape for the center. Draw eyes with a black marker. With a pink marker color the inside of the ears. Doesn't the bunny look like he is playing peek-a-boo?

Summer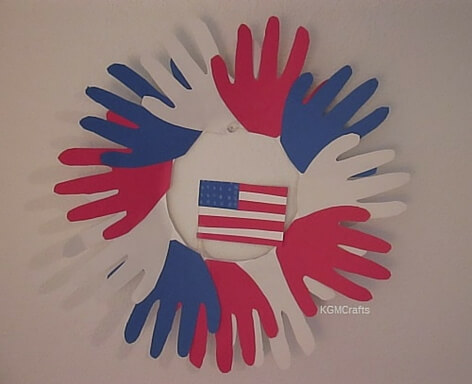 In the United States we celebrate Independence Day in July. The colors are red, white, and blue. For the flag cut a small rectangle from white paper. In one corner place a blue square. On the blue square make rows of white dots to represent stars. Cut thin strips of red paper and glue on the white rectangle. Glue the flag to a toothpick.
(One of the first flags of the United States was made by Betsy Ross which was made during the American Revolution War.)

Autumn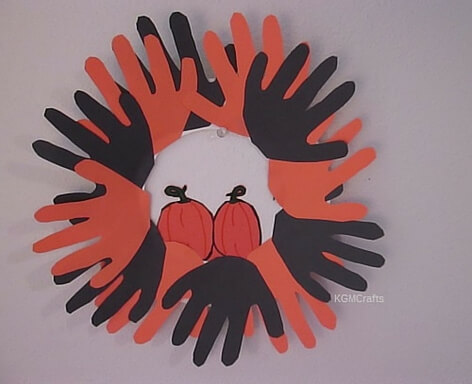 For your fall wreath make your hand prints on black and orange paper to represent Halloween. Or you could use other fall colors such as orange, yellow, and brown. Make two pumpkins to place in the center.

Winter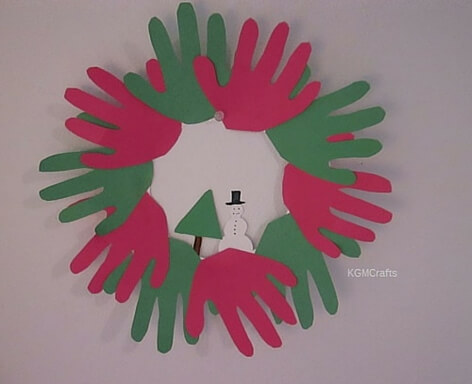 Christmas is in winter so I used green and red for the hand prints. I placed a tree and snowman in the center.
Each wreath used a different number of hands, one used eight, another eleven, and one twelve. It depended on the number of colors and how I could fill the circle.
This craft has so many possibilities. You could do one for Valentine's Day using red, pink and white paper. Another idea is to make one for a person's birthday using their favorite colors. If you need a Sunday school activity make one in blue and green and then sing the song "He's Got the Whole World In His Hands".

If you like making wreath crafts for kids you might also like our Christmas wreath page.

Sign up for our newsletter for more crafts.
Share