Easy Balaam's Donkey Craft 
Is your Sunday school class learning about Balak and Balaam? Then Balaam's Donkey craft can help. It is easy to make. After it is finished your students can make the donkey talk. 
In Numbers 22:1-11 we have the Biblical account of Balak the king of Moab seeing the Israelites and being afraid. He asks a soothsayer named Balaam to curse the people of Israel.
The account of Balaam, the donkey, and the Lord's command to bless Israel is in Numbers 22:22-35.
Want to make this craft another day? Pin it for later.
Balaam saddles up his donkey and goes with the princes of Moab. On the way, the donkey sees the angel of the Lord three different times and would not move forward. Each time Balaam hits the donkey. After the third time, the angel of the Lord opens the donkey's mouth. She asks Balaam, "What have I done unto thee, that thou hast smitten me these three times?" Numbers 22:28 KJV.

Balaam's eyes are also opened and he sees the angel of the Lord. And the angel of the Lord tells Balaam to only say the words that he has given him. Balaam does and instead of cursing Israel, he blesses them. 
Be sure to read the story in your Bible so that you can highlight any details that you want to tell your students that I might have left out. There is more to the story in Numbers chapters 23 and 24.
Supplies for Balaam's Donkey Craft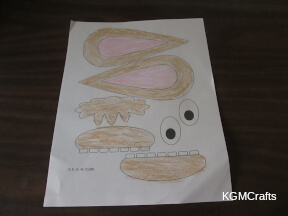 Download and print your PDF template of the donkey's features. (opens in a new window at Teachers Pay Teachers)
Use gray, black, or brown to color the ears, hair, and mouth.
Use a lighter shade or pink to color the inside of the ears. Leave the eyes and teeth white.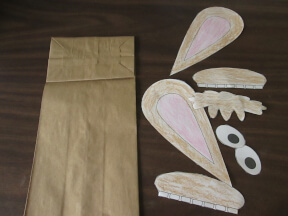 Then cut around the outside lines of the shapes. You do not have to cut around each individual tooth just cut across the top lines. 
If you don't want to buy the PDF you could make you own ears, hair and mouth. The ears are a tear shape 6 1/2 by 2 inches. The hair is a cloud shape 4 by 1 1/2 inches. The mouth is a half circle 4 by 1 1/2 inches. 
Hold the bag so that the folded part is on top. Turn the bag over and glue the ears to the top of the folded part. 

On the front of the bag (where the flap is) glue the hair between the two ears.
Glue one part of the mouth on the flap so the teeth are on the bottom fold. 
Glue the eyes below the hair.
Glue the other mouth piece on the bag just below the fold. 
After your kids have made Balaam's donkey craft have them place their hand into the bag and make the donkey puppet talk.

More Bible Crafts
Share