Bear Crafts for Kids from Easy to Find Materials
Do you want to go on a bear hunt?  Bear crafts for kids make interesting activities. The best thing is that your children can start today. The projects use materials that you probably have in your home.
By using ready to find materials, it will save you time and money. You will not have to go to a special store to find expensive supplies. If you do not have the materials at home, you can pick them up the next time you go grocery shopping.

Want to make the bear crafts for kids? Pin for later.
Bears are popular in movies and literature. Favorite stories are "Winnie the Pooh", "The Berenstain Bears", and "Corduroy." Before you do the bear crafts, grab some fiction and / or nonfiction books and read to your child.

The pictures will take you to the individual bear crafts for kids

Make a Paper Bear
Bear Crafts for Kids a Mask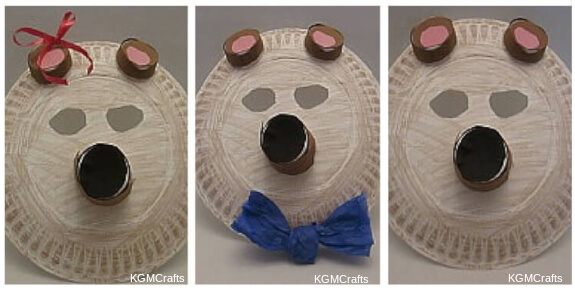 Do your kids like the story of The Three Bears? By adding different accessories to the mask, you can create the different characters. This mask even has a large snout.

You will need;
Three 3 oz. paper cups
Five cotton balls
Brown construction paper
Brown Crayon
Black Marker
White Glue
Paper Plate
Scissors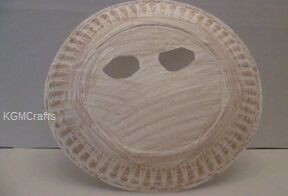 Color your plate brown.
Cut two eyeholes in the paper plate.
It would be bad if your bears couldn't see. How would we know what happened in their den? Remember the story someone ate their oatmeal, sat in their chair, and slept in their bed.
To make ears, cut two paper cups so that they are 1/2 inch high. Cut out four pieces of construction paper 1/2 by 3 inches wide. Glue the paper to the outside of each cup.
By the way, we use two pieces because the cup is larger at the top than on the bottom. We find that using two pieces instead of one covers the cup better.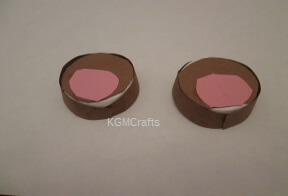 Cut two circles of paper to fit on the bottom of each cup. Now cut two pieces of pink paper a little smaller than the brown that you put on the bottom of each cup.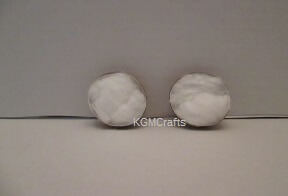 Cut one cotton ball in thirds.
Next, glue one and one-third cotton balls inside each of the ear cups. Then glue the ear on the paper plate.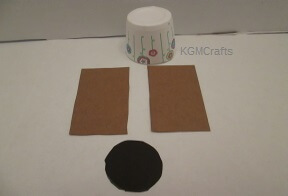 Cut the other cup so that it is 1 1/2 inches high. Cut two brown pieces, 1 1/2 by 3 inches. Glue the pieces of paper on the outside of the cup.
Cut a piece of black paper to fit in the bottom of the cup. Glue 3 and 1/3 pieces of cotton balls in the cup. Glue the cup to the paper plate.
Draw a mouth with a black marker.
To make Mama Bear place a bow on one of her ears. For Papa Bear, make a bow tie and glue it on the bottom rim of the plate. For Baby Bear, use a small dessert plate. You could even make Goldilocks by making a face on a paper plate and using yellow yarn to make hair.
You can use different colors to make different bears masks too! Use black and white to make a panda, or just white to make a polar bear.
Besides Goldilocks and the three bears, there are other books about bears. Be sure to read some books while making the bear crafts for kids.
Recycled Bear Crafts for Kids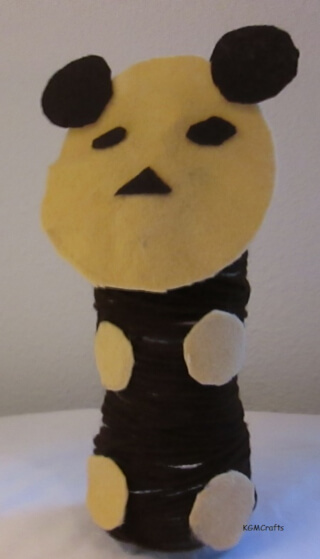 Use a water bottle, yarn and some felt to make a teddy bear! You might not want to put this one on your bed. But he will look cool on your desk.

You will need;
Yarn in brown, black, or white
Felt in tan, brown, black, or white
An empty water bottle
Glue
Tape
Optional Wiggly Eyes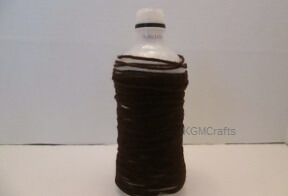 Tape the end of a brown piece of yarn to the bottom of a water bottle. Wrap the yarn around the bottle, spiraling up until you reach the end of the wide part of the bottle.
When you reach the top, cut the yarn and glue it to the bottle. You can go back and remove the tape on the other end and glue the end down if you want.
Next, make a circle out of light brown felt for the head. For the ears, cut small circles out of dark brown felt. Glue the ears to the top of the light brown head.
Cut two almond shapes for the eyes out of dark brown felt, or you could use wiggly eyes. Cut a triangle nose out of black or dark brown. Glue the eyes and nose to the face.
For the paws, cut four small circles out of light brown felt. Glue the paws and head on the yarn body.
Paper Bear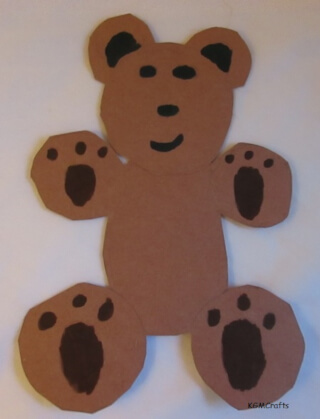 Who doesn't like to read? This brown bear would make a great bookmark.
Another idea is to make card. These bears would look great in the center of a forest or jungle themed card. This craft is simple. All it uses in brown paper, glue stick, markers, and a compass to make circles. This is a great way to teach your kids how to use a compass!

You will need;
Brown Paper,
Marker,
Glue Stick,
Scissors,
Compass (but not the compass that points north)
With the compass, make two small circles close to each other. The circles are about 1 1/4 inches. Or you could use a round object to help you draw the circles.
Make two larger circles below so that they line perfectly with the upper ones. The larger paws are about 1 3/4 inches.

Trace the body between the paw circles. Cut out.

Make a big circle for the head. You will want it to fit between the front paws. The head is about two inches. Cut out.
Then make two small circles for ears. The ears are smaller than the front paws. They are about one inch in diameter.
Place the ears so that about half is behind the head. Then glue.

Glue the head to the body.

With black marker, draw a face.

With a brown marker, draw a circle for paws and four dots for toes.
Leave your bear as he is and place in a book for a bookmark.
Or to make a card, glue onto a folded piece of card stock. You could write on the card, "I love your beary much."

I liked reading Brown Bear, Brown Bear, What Do You See?, by Bill Martin, Jr. to my kids when they were young. It is illustrated by Eric Carle. After you have made your bear crafts for kids, you could make other characters in the book. Try making a red bird or a yellow duck. Then your child can act out the story when you read it.

Have fun using your bear crafts for kids to act out stories you have read.
More Animal Crafts
Sign up for our newsletter for more crafts.
Share