Bear Mask for Kids
Do your kids want to play the parts of the three bears? They can make a bear mask to represent the mama, papa, and baby. All you need to do is find someone to play the part of Goldie Locks!
For this craft you will need;
Three 3 oz. paper cups
Five cotton balls
Brown construction paper
Brown Crayon
Black Marker
White Glue
Paper Plate
Scissors
Directions for Bear Mask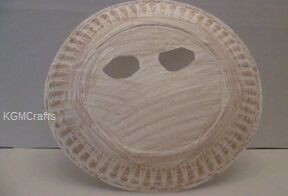 Cut two eye holes in the paper plate. (It would be bad if your bears couldn't see. How would we know what happened in their den? Remember the story someone ate their porridge, sat in their chair, and slept in their bed.)
Color your plate brown.

To make ears cut two paper cups so that they are 1/2 inch high. Cut out four pieces of construction paper 1/2 by 3 inches wide. Glue the paper to the outside of each cup.
By the way we use two pieces because the cup is larger at the top than on the bottom. We find that using two pieces instead of one covers the cup better.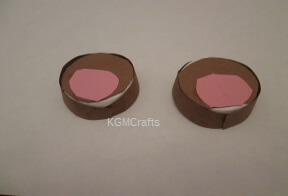 Cut two circles of paper to fit on the bottom of each cup. Now cut two pieces of pink paper a little smaller than the brown that you put on the bottom of each cup.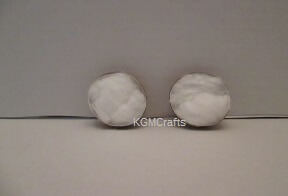 Cut one cotton ball in thirds.
Next glue one and one-third cotton balls inside each of the ear cups. Then glue the ear on the paper plate.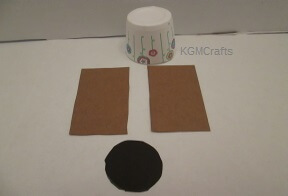 Cut the other cup so that it is 1 1/2 inches high. Cut two brown pieces 1 1/2 by 3 inches. Glue the pieces of paper on the outside of the cup.
Cut a piece of black paper to fit in the bottom of the cup. Glue 3 and 1/3 pieces of cotton balls in the cup. Glue the cup to the paper plate.

Draw a mouth with a black marker.
To make Mama Bear place a bow on one of her ears. For Papa Bear make a bow tie and glue it on the bottom rim of the plate. For Baby Bear use a small desert plate. You could even make Goldilocks by making a face on a paper plate and using yellow yarn to make hair.
You can use different colors to make different bears masks too! Use black and white to make a panda or just white to make a polar bear.

Sign up for our newsletter for more crafts.
More Animal Crafts
Share