2 Kids Firework Crafts 
Safe and Noise Free
Don't worry these kids firework crafts are not noisily and are safe for your kids to make and play with. Even your youngest child will be able to celebrate the 4th of July.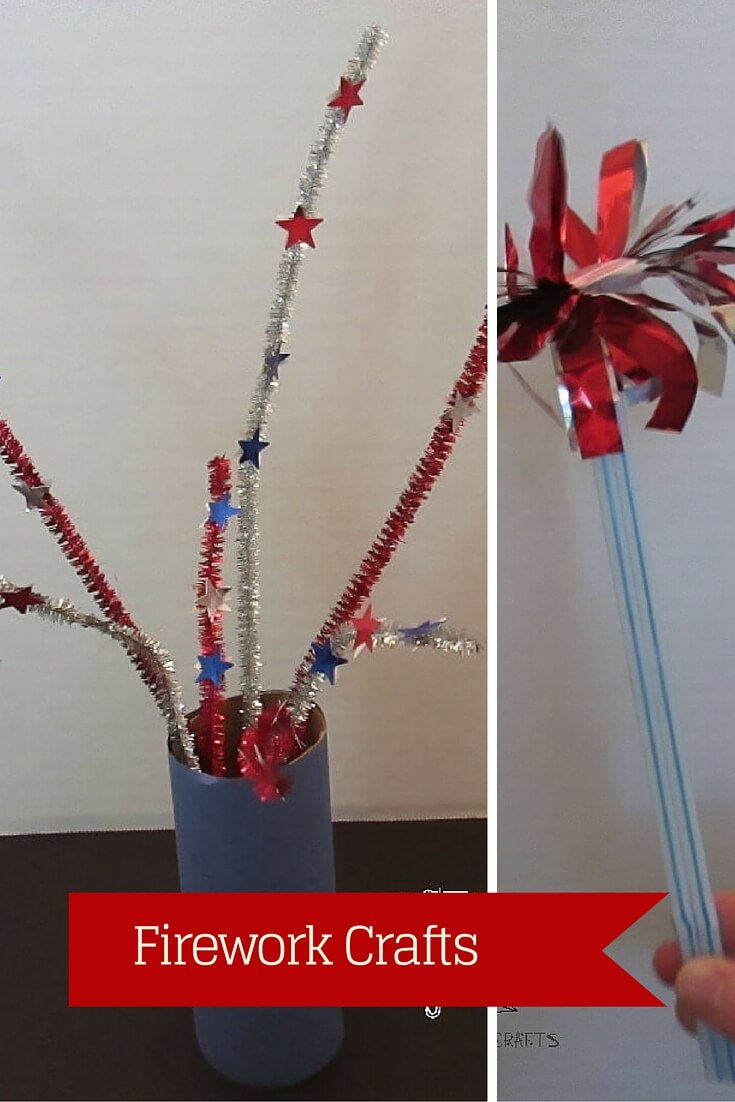 Do you know that China is first to have made fireworks? In the United States you can see firework displays during Independence Day (also known as the 4th of July) and the New Year's celebration. They are also displayed at Disneyland, county fairs, and sometimes sporting events. The Walt Disney Company is one of the largest consumers of fireworks in the United States.

Fireworks Craft for the Table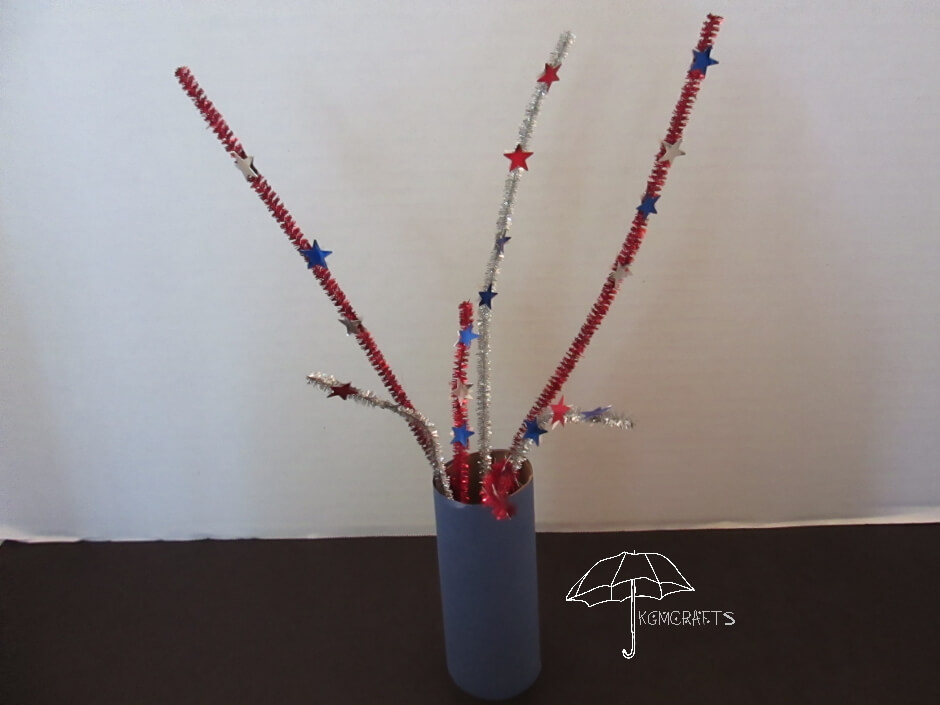 Here is a cute decoration to set on your 4th of July table that won't make any noise!
You will need;
Red and silver sparkly pipe cleaners,
 Star stickers,
An empty toilet paper roll,
Construction paper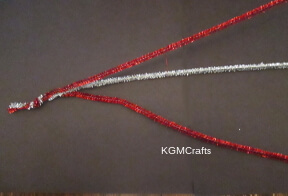 This craft couldn't be easier! I first twisted the ends of three pipe cleaners together. You only want to make two or three turns at the bottom of the pipe cleaners, just enough that they hold together.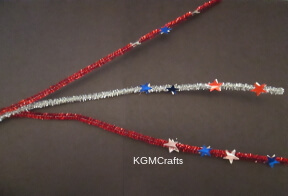 Next take two stickers place one on one side of the pipe cleaner. Turn the pipe cleaner over and place another sticker over the sticky side of the first star. I put three or four stickers on each pipe cleaner. You could put more on if you want too.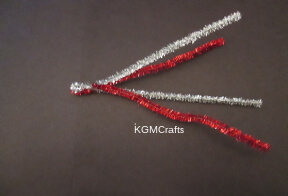 Fold two more pipe cleaners in half. Make a twist near the bottom folds. (Sparkle, sparkle, pop, pop!)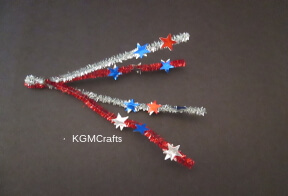 Add stickers to the pipe cleaners.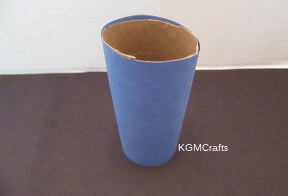 Cover a toilet paper roll with construction paper. I taped the ends of the paper together.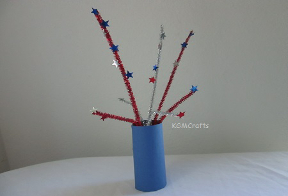 Place your pipe cleaners in your toilet paper roll and tape them inside.
Look at your pretty firework decoration. You can make one for everyone at your table. Put their name on the sides of the toilet rolls for place holders.

Sparkler Safe Kids Firework Crafts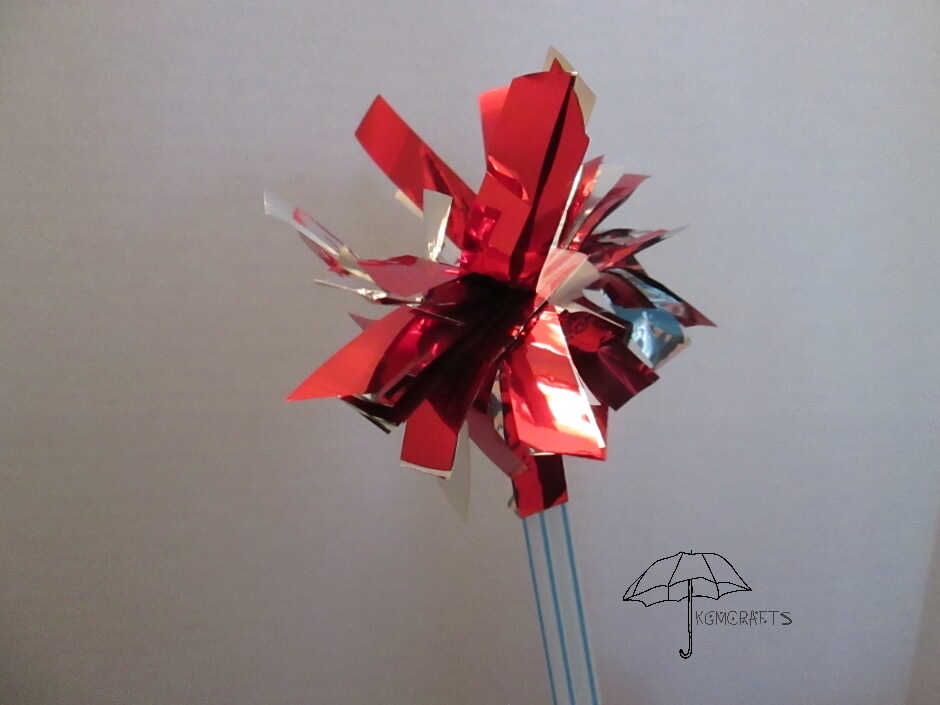 Sparklers are both cool and fun, although I know that is not the safest thing for children to play with. But don't worry we have found a way to make a cool sparkler by using flash tape. When the sun hits the tape it sparkles like it is on fire even though it is only a reflection.

To make this 4th of July craft you will need two straws, flash tape, and scotch tape.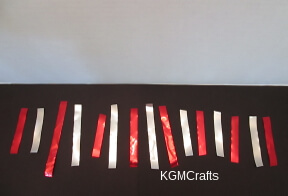 First cut various sized piece of flash tape (by the way you can find flash tape in the gardening section with the seeds. It is used to scare birds away).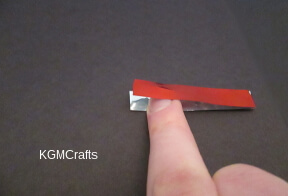 Take one piece fold in half so the red side is out.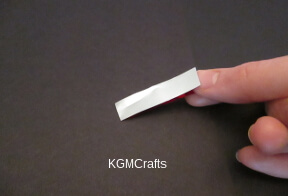 Take another piece and fold in half so the silver side is out. Fold the rest of the pieces so that you have an equal number of red and silver pieces.

Stack your pieces together and tape in the center.

Cut on the folds of each piece.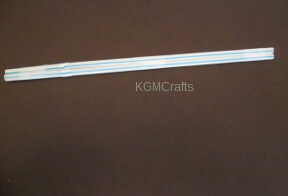 Next tape the two straws together at the top, center, and the bottom.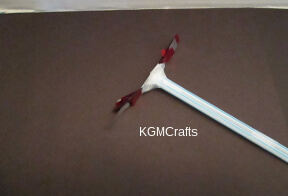 Make a circle of tape and place it on top of the straws. Place your first flash tape bundle here.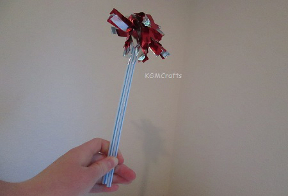 Make another group of flash tape strips. The pieces are shorter than the first group. Add another circle of tape and place your second bundle on the straws. You might need to make a third group so your sparkler is full.

Now give the sparkler to the youngest member of your family.

With these kids firework crafts you will have a peaceful display on your table and your children will have safe sparklers to play with.

Sign up for our newsletter for more crafts.
More 4th July Crafts
Share