Sun Visor Craft for Kids 
Shades for Your Eyes
What to look cool on the 4th of July (or at least see where you are going)? Here is an easy sun visor craft for kids.  It will keep the sun out of your eyes so you can celebrate Independence Day.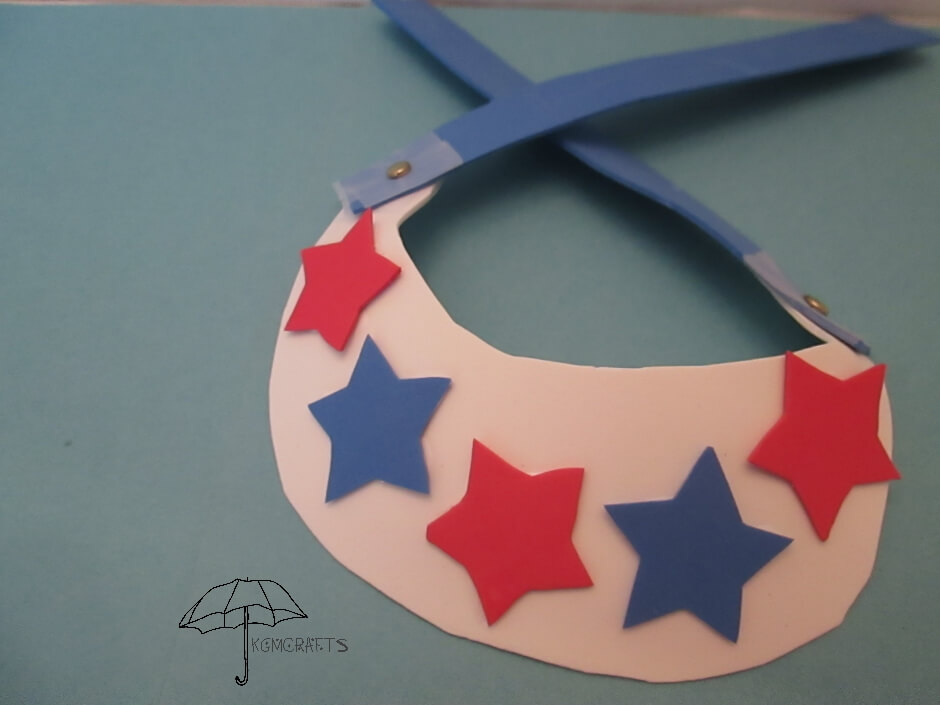 A sun visor is like a baseball hat, but it only has a bill with straps that go around your head. They are worn while watching or playing outdoor sports, like golf, tennis, and volleyball. Some people also wear them while going to the beach or doing other outdoor activities.

For this craft all you need is;
Red, white, and blue craft foam,
Two brads (aka paper fasteners),
Velcro,
Tacky glue
How to Make a Sun Visor Craft for Kids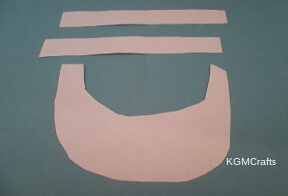 The bill of a baseball hat makes a good pattern for the visor. Draw everything on paper before cutting out the foam. The bill (remember its bill not dollar bills) is 2 1/2 by 7 inches. I used white foam for the bill.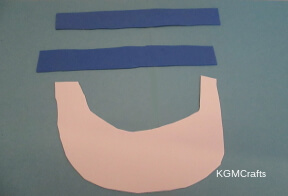 Then cut two strips of blue craft foam 1 inch wide by 8 1/4 long. You might want to measure your head before you cut the strips. You might need to make them longer or shorter.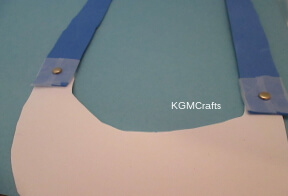 Place a small piece of tape on each side of the bill, and strips. The tape makes the foam a little stronger so that it would not rip as easily.
Attached the strips to the bill with the two brads.
On the open end of the strips place a small piece of Velcro. I like to have the hooks facing away from my hair. Then there is less chance of the hat pulling your hair (because that would just hurt).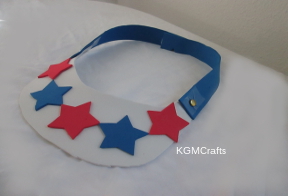 Decorate the bill of your hat with stars. I used three red stars and two blue. If you press a star cookie cutter into the foam, it will leave an indentation that you can cut around. Glue the stars to the bill. When the glue is dry, try your sun visor on.

Have fun wearing your sun visor craft for kids on the 4th of July! If you enjoyed making the craft you could make one for each member of your family. Just be sure to measure their heads so that you can make the side strips long enough so that it will fit. You could even make the visor in different colors if you wanted too. 

Sign up for our newsletter for more crafts.
More 4th of July Crafts
Share