Valentine Flower Crafts for kids

Making a Heart Shape Rose
Here is a Valentine flower crafts for kids that would be great to give to a parent or teacher.

Flowers in the Victorian Era were sometimes used to create a secret message. Each flower would represent a word. Giving a red rose meant "love". My flower is a pink rose which would represent "sweetheart" or "appreciation".

Some people give red, white, or yellow roses for Valentine's Day.
Even though the flower is made with a pink cupcake liner you could use a different color. You can find bright colored and holiday liners in the cake decorating section of your local store.

What you will need;

A pink cupcake liner (or a different color of your choice)
White paper
Pink crayon
Two green pipe cleaner
Tape
Chocolate kiss (optional)
Directions
Valentine Flower Crafts for Kids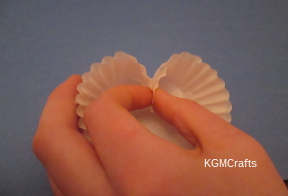 From the inside of the cupcake liner pinch two of the sides together. Tape the ends together so they hold. This is will the top of your heart.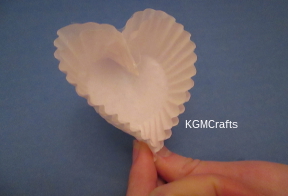 From the outside of the cupcake line pinch two of the sides together and secure with tape. This is the point of the heart.

Cut two pieces of paper approximately 1 3/8 inches by 3 1/2 inches. Color both of your pieces of paper pink on both sides.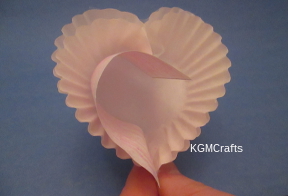 Make a roll of tape place it inside of the cupcake liner on the bottom fold. Place the piece of paper and curl it around half of the inside of the liner. Tape it to the top fold.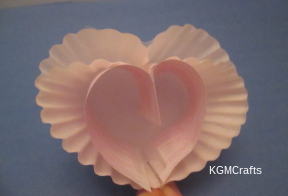 Do the same to the other piece of paper so that both pieces form into a heart.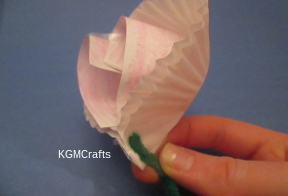 Cut a pipe cleaner 6 1/2 inches. Then tape it to the side of the cup cake liner to make your flowers stem. Your flower is done! You could make a dozen for a traditional Valentine's gift of a dozen of roses.

Want to give some candy with your flowers? You could tape a chocolate kiss in the center of your heart shaped rose.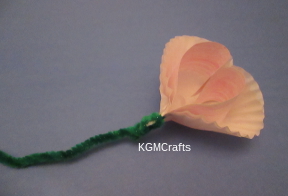 You will need two pipe cleaners. In the step above you already attached the 6 1/2 inch pipe cleaner. Next you will use a twelve inch pipe cleaner and wrap the end around the point of the heart two or three times. Continue to twist the larger pipe cleaner down the stem.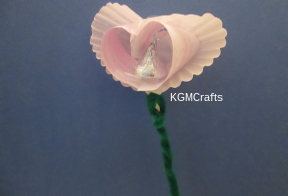 Tape a candy kiss to the center of your flower.

Before you give your flower to your Valentine, write her or him a love note. One of the things you could write is the popular poem "Roses are Red".

Valentine flower crafts for kids are so fun and easy that your child will want to make one for everyone on their list.

To make a vase or other flowers, take a look here.

Home
›
Holiday Crafts
›
Valentine's Day
› Flower