Water Bottle Bear Craft for Kids
Use recycled material to make a water bottle bear. This craft uses yarn and felt so it looks like a teddy bear. He is not very cuddly but he would be cute sitting on your desk.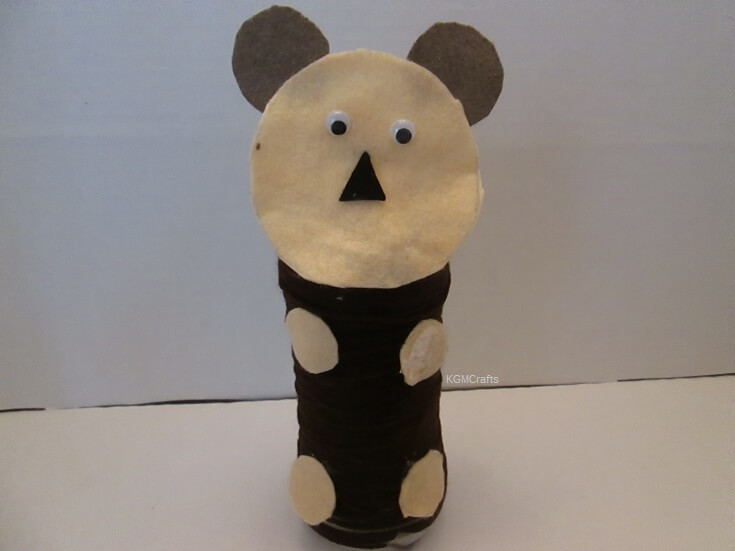 Before we get crafting here are some facts about teddy bears.

The first teddy was made with yellowish brown mohair. It was to represent the black bear that Theodore (Teddy) Roosevelt hunted for on a hunting trip with Governor Andrew H. Longino in Mississippi.
Teddy bears became a popular children's toy. Today they are made in many different materials such as synthetic fur, cotton, and other fabrics. They also represent other bears such as the polar and panda bear.
Early bears had beady eyes and extended snouts. Bears today have larger eyes and smaller snouts.
There are several children stories about stuffed toy bears such as Winnie the Pooh and Corduroy.

For water bottle bear you will need;
Yarn in brown, black, or white
Felt in tan, brown, black, or white
An empty water bottle
Glue
Tape
Optional Wiggly Eyes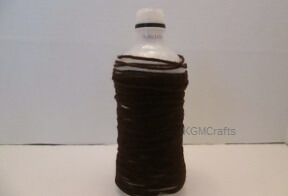 Tape the end of a brown piece of yarn to the bottom of a water bottle. Wrap the yarn around the bottle spiraling up until you reach the end of the wide part of the bottle.
When you reach the top cut the yarn and glue it to the bottle. You can go back and remove the tape on the other end and glue the end down if you want.

(Teddy bears sometimes made kids feel safer at night. Sometimes law enforcement officers carry teddy bears so that kids will not be afraid of them.)
Next make a circle out of light brown felt for the head. For the ears I cut small circles out of dark brown felt. Glue the ears to the top of the light brown head.
Cut two almond shapes for the eyes out of dark brown felt, or you could use wiggly eyes. Cut a triangle nose out of black or dark brown. Glue the eyes and nose to the face.
For the paws I cut four small circles out of light brown felt. Glue the paws and head on the yarn body.
(Even though we used lighter colored felt for the paws antique bears have matching paws.)
Your water bottle bear is done. Maybe your bear will become a collector's item. Well at least your parents will like it.

You could even make a water bottle bear to look like your favorite character. The care bears are bright colors such as blue and pink. Or you could use yellow or gold yarn and make Winnie the Pooh.

Sign up for our newsletter for more crafts.
More Animal Crafts
Share