Christmas Ornament Crafts for Kids
to Hang on your Tree
Kids love decorating the tree. Here are some Christmas ornament crafts for kids that they can make.
The pictures are quick links to Christmas Ornament Crafts for kids on this page.
You will not have to worry about broken bulbs.
Soon your tree will look nice with homemade stars, bells, tissue paper candy canes, and other Christmas items.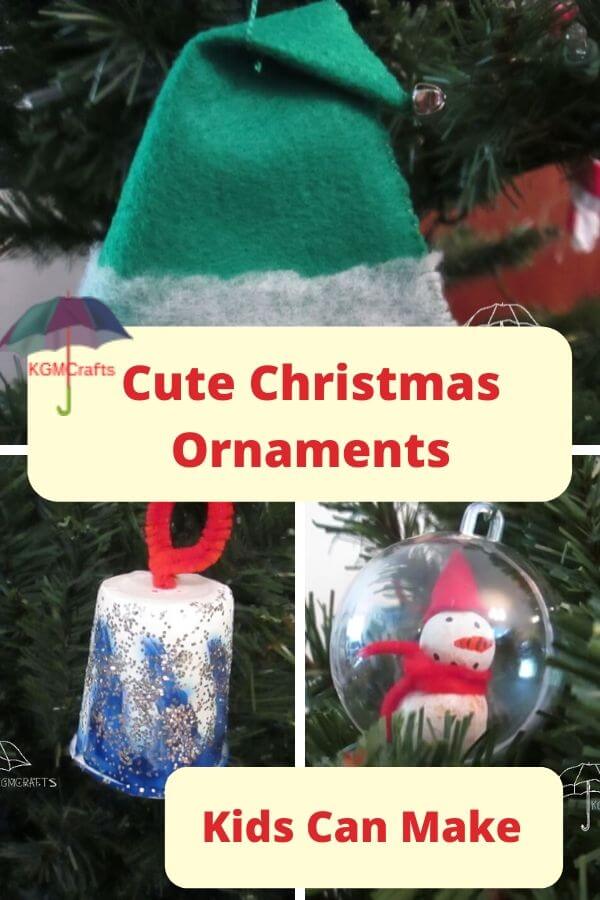 Elf Hat Ornament
In the legend of Santa Claus, elves help Santa at his workshop by making toys. They are short mystical creatures who usually wear red or green clothes. They also wear pointy hats and curly toed shoes.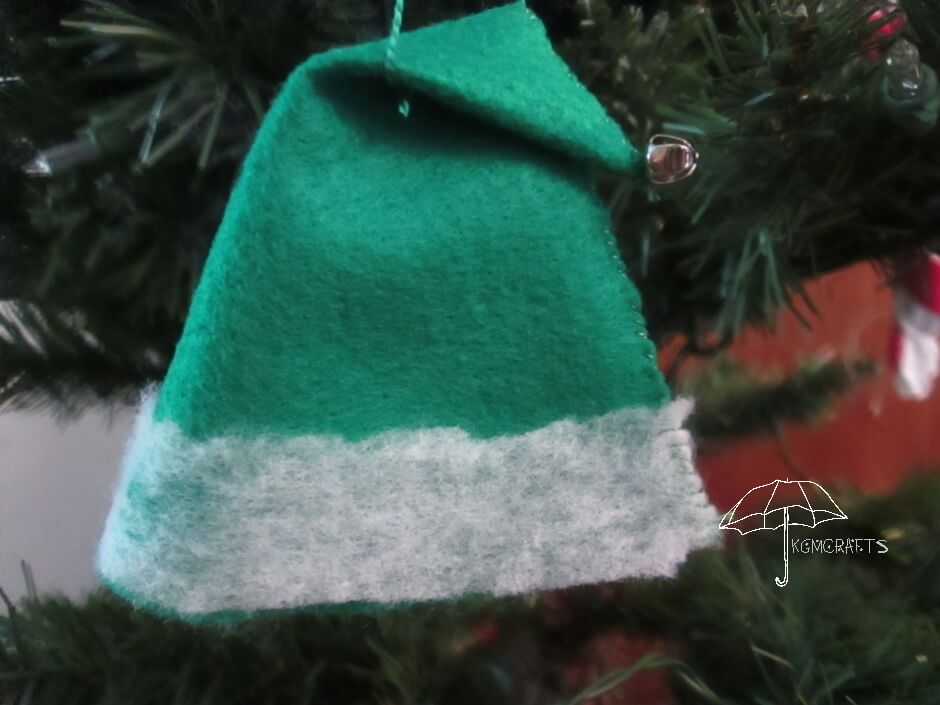 Materials;
Paper to make pattern
Felt
Needle and tread
Jingle bell
Quilt batting or white felt
Craft thread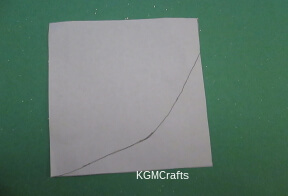 On white paper cut a 5 1/2 by 6 inch rectangle. Turn the rectangle so that one corner is at the top, round the bottom edge.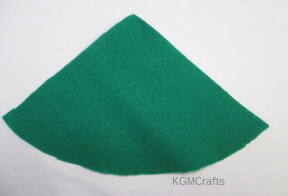 Pin your pattern to the corner of your felt. Cut out.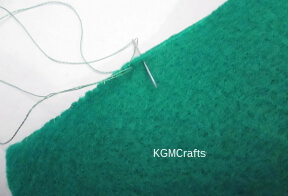 Bring the two sides together. Thread a needle. Staring at the bottom of the hat sew the sides together using a whip stitch.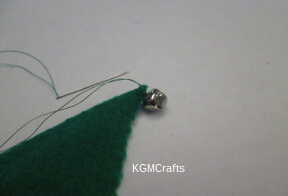 At the point sew on a small jingle bell.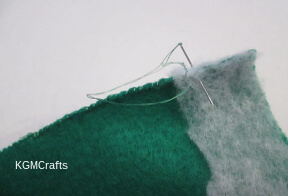 Cut a 1 by 8 1/2 inch piece of quit batting for the trim of the hat. If you don't have batting, you could use white felt.
Sew the batting on at the side seam.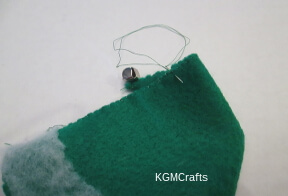 Fold the top of the hat down 2 1/2 inches and sew.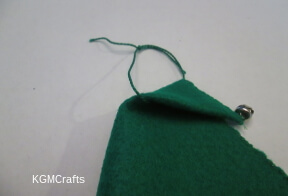 Leave a hole at the top so that you can thread a craft thread through.
Christmas Ornament Crafts for Kids
Stars

Twinkle, Twinkle Little Star…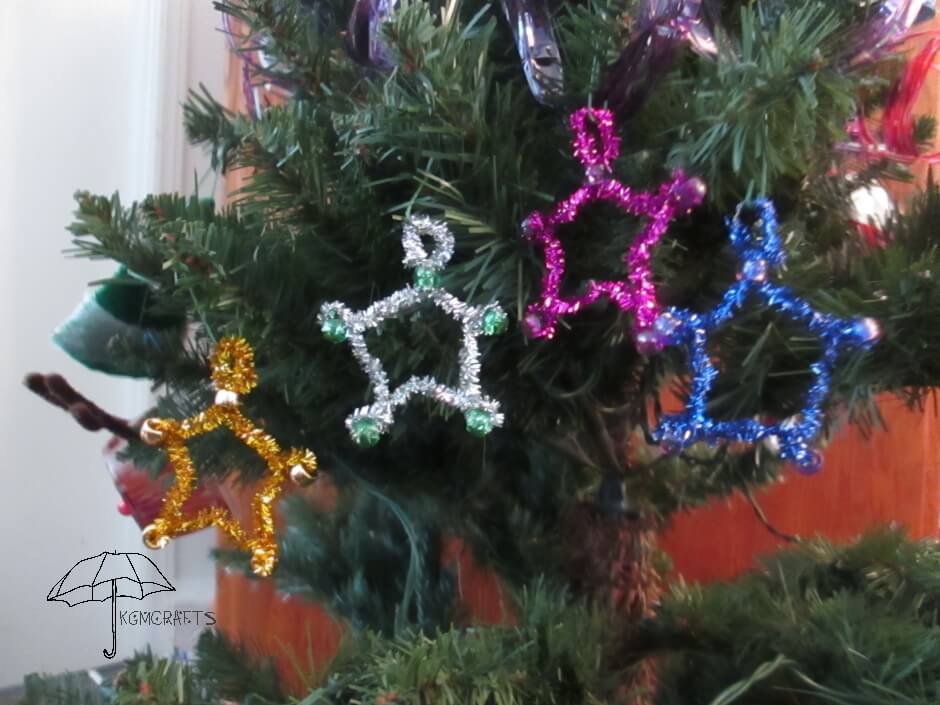 You will need;
Sparkly pipe cleaner (you could use a regular, but we think the sparkly ones look the best)
5 beads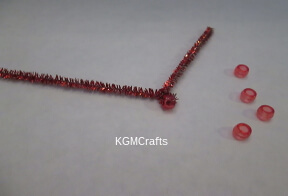 Place one bead 3 1/2 inches from one end of the pipe cleaner. Twist the pipe cleaner around the bead.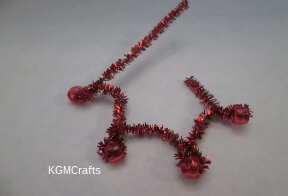 Add another bead 2 inches from the first bead, twist. Repeat until you have four beads.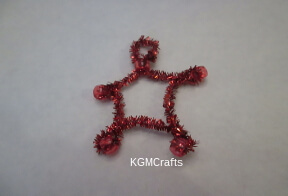 Slide your 5th bead through both ends of the pipe cleaner. Make a circle by twisting the two ends together.
Bend into a star shape.

In Gospel of Mathew verse 2:1-12, a star brought Magi to Jesus. We also sing about the star in the song "We Three Kings".

Candy Cane
Many people decorate their trees with candy canes. Here is one that anyone can make.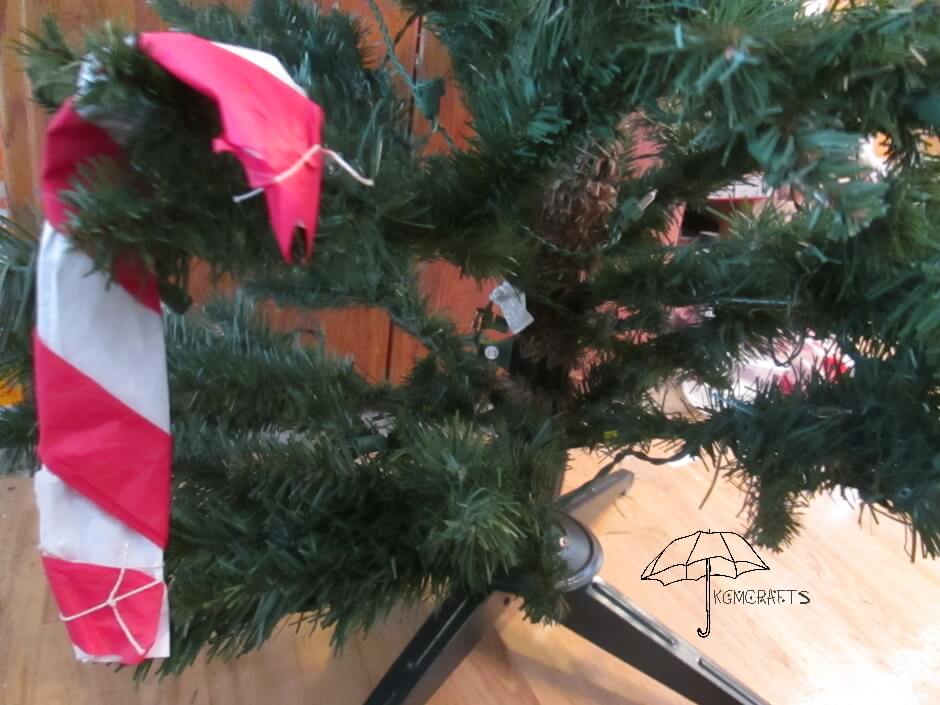 What you will need;
1 Wired Garland Tie
White tissue paper
Red tissue paper
White craft thread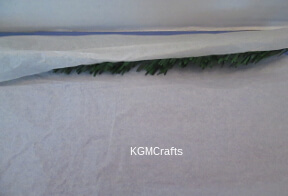 Take your Garland Tie and wrap it with white tissue paper until it is fully covered and you can no longer see the green.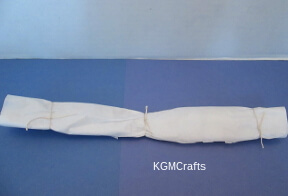 Cut three pieces of craft thread and tie on the Garland and tissue paper.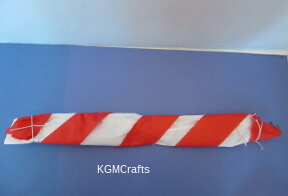 Cut 4 1/4 by 19 1/2 inches of red tissue paper. Fold three times so you have a long strip. Wrap around the white and tie with more craft thread.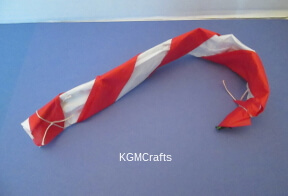 Bend into a candy cane shape.

A Silver-Blue Bell Cup
Bells are popular to ring during Christmas time. In the Middle Ages, churches rang bells for important events, such as Christmas. There are also many songs about bells such as; "I Heard the Bells on Christmas Day", "Jingle Bells", "Silver Bells", and "Christmas Bells are Ringing".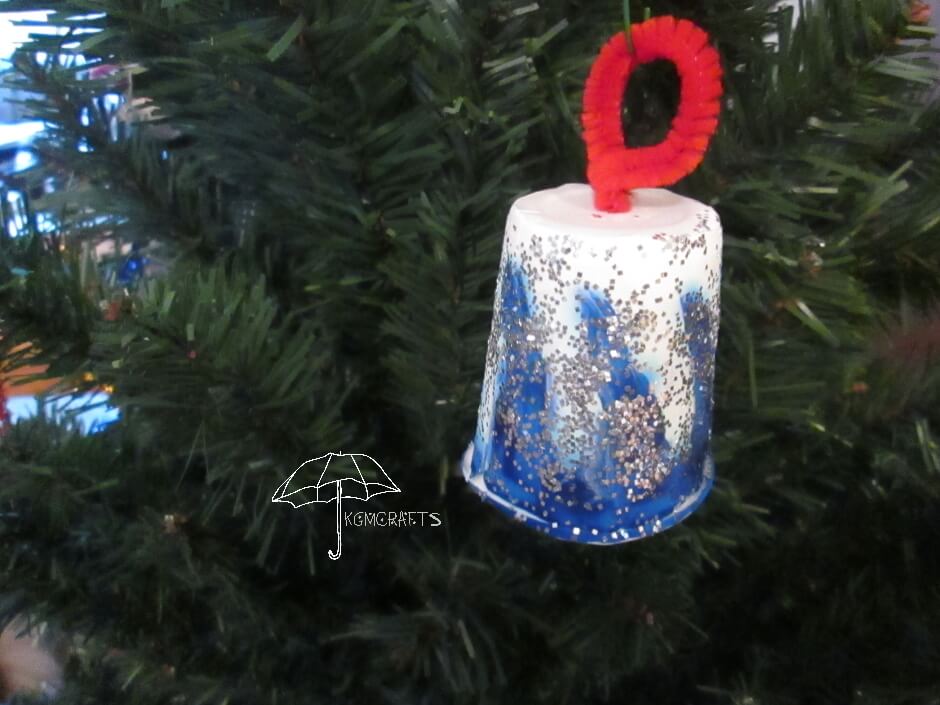 You will need;
One 3 oz cup
Pipe cleaner
Wooden bead
Push pin
Paint
Glitter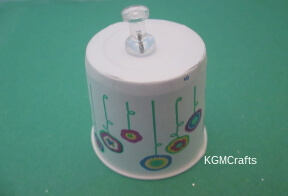 Cut 8 inch piece your pipe cleaner.
Poke a small hole with the push pin on the bottom of your cup. You will want it big enough to be able to pull the pipe cleaner through.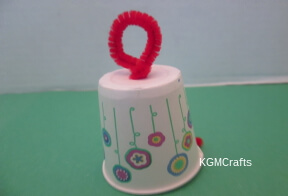 Pull the pipe cleaner through the hole in the cup. Make a hanger at the top.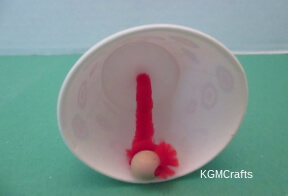 At the end of your pipe cleaner twist on a wooden bead. It should make noise when you shake it.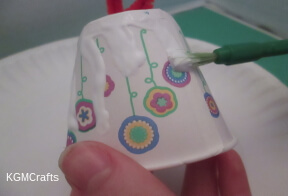 Paint your cup a Christmas color. I used blue and white.

Before your paint dries, sprinkle the cup with glitter. I used silver.
Let dry overnight. Now hang you bell on your tree and let it ring.

Recycled Garland
A lot of kids make garlands for the Christmas tree by gluing a strip of paper into a ring. Then placing another strip inside the ring and gluing the ends.
Here is a different way to make a garland.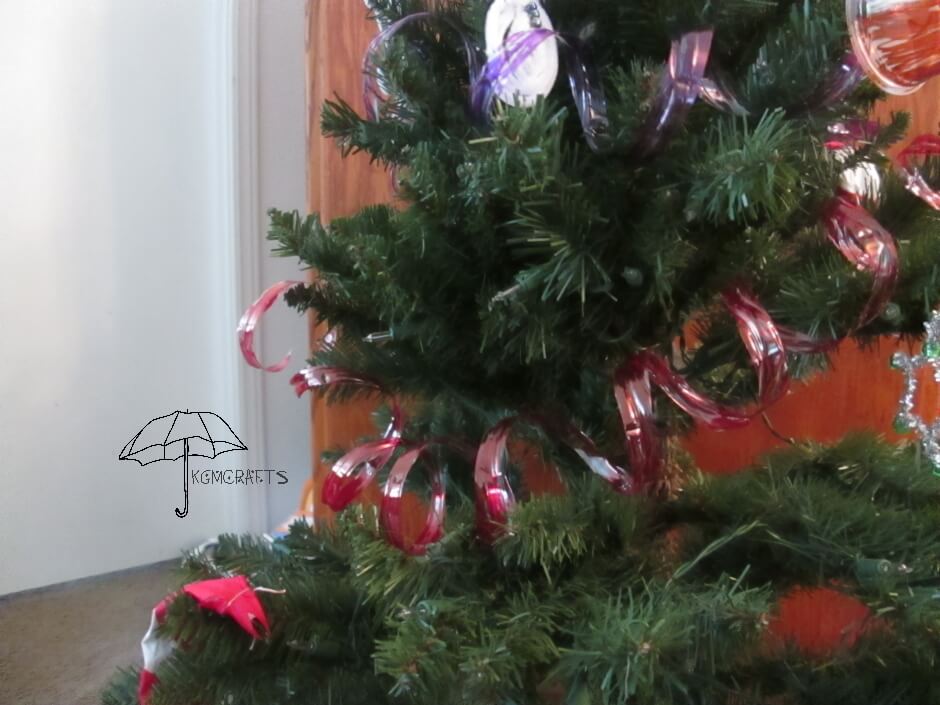 You will need;
A permanent marker
Thin plastic water bottle
Scissors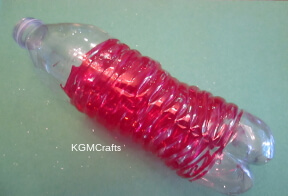 Take the paper label off the water bottle. With the marker color the bottle.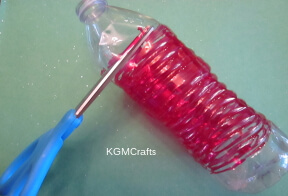 With an adults help, cut the top off.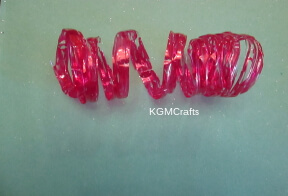 Cut the middle part of the bottle in a spiral.
Hang the garland on the tree.

Snowman in a Ball
This snowman you can hang on your tree and it won't melt.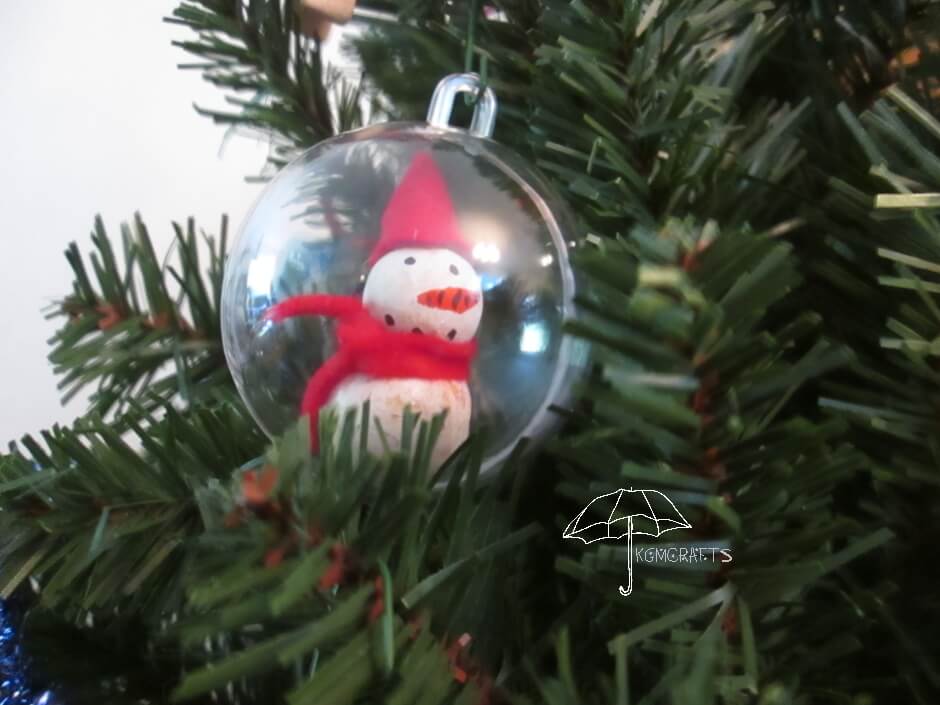 Supplies;
Wooden bead
3/4 inch wooden doll head
White paint
Black permanent marker
Scraps of felt
Hot glue
Plastic ball ornament that comes in half, the size that I used was 2.36 inches or 60 mm.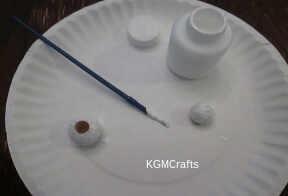 Paint beads with white paint, you will need at least two coats of paint.
When the paint is dry, draw eyes and mouth on the head piece with a marker.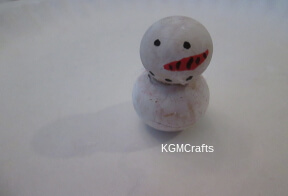 Glue the head piece to the wooden bead.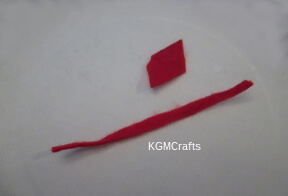 Cut a thin piece of felt 4 1/4 inches long. Also, cut a diamond shape 1/2 by 1 inch for a hat.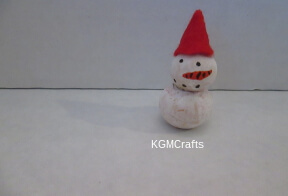 Glue the hat on top of the head.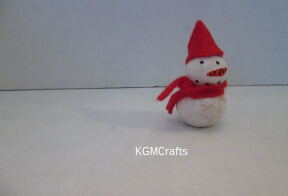 Tie the scarf around the neck. You will want your snowman to stay warm.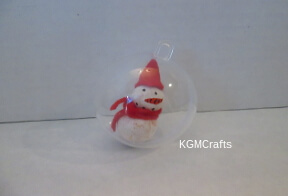 Glue the snowman to the inside of the ball.
Snap the ball together.
Now use the Christmas ornament crafts for kids to decorate your tree.
For more great crafts sign up for our newsletter.
More Christmas Ornaments Crafts for Kids;
Share